The 2015 Late Bottled Vintage Port is a commemorative edition, bottled in the year which marks Graham's bicentenary (1820-2020).
This special edition LBV is presented in 3 brightly coloured tubes – deep red, royal blue and ochre. The tubes were designed using handcrafted marbled paper which reflects the craft and attention to detail of the brand and builds on our heritage in honouring the craftsmanship that goes into producing wines of such consistent quality.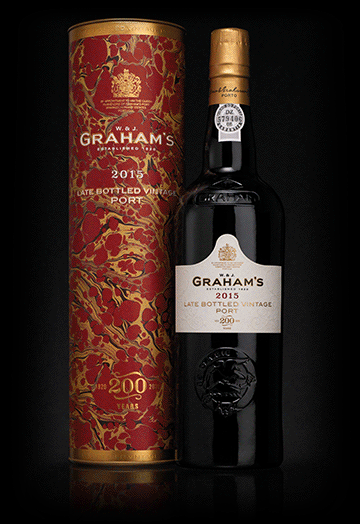 The front and back labels are adorned with beautifully embossed detail inspired by a combination of Porto's wrought iron balconies and traditional Portuguese tiles (azulejos) to evoke memories of Porto's charming streets.
This LBV is produced from grapes sourced from four of Graham's vineyards, each with Vintage quality and style. The wine brims with bright aromas of blackberries and liquorice, with background notes of rock rose and mint that are typical of Touriga Franca, a variety that excelled in 2015. Late Bottled Vintage Port spends twice as long in wood as Vintage Port so it is more accessible at an early age and is released ready to drink.
LBV is a versatile and approachable style of Port, delicious at the end of a meal with dark chocolate desserts and cheese.